IIT Kanpur Free Online Courses | Electromagnetic Free Course By Prof. HC Verma | IIT Kanpur Free Training & Certification
Online Course IIT Kanpur || Certification Course From IIT || Electrical Engineering Free Course || ECE Electrical Engineering Free Certificate
The Classical Electromagnetism course will be offered for free by the Indian Institute of Technology Kanpur (IITK), which is introducing a new online course. College students who are interested in the programme and pupils who wish to improve their abilities are welcome to enrol on their own. Continue reading to learn everything there is to know about the class.
Course Description About Classical Electromagnetism course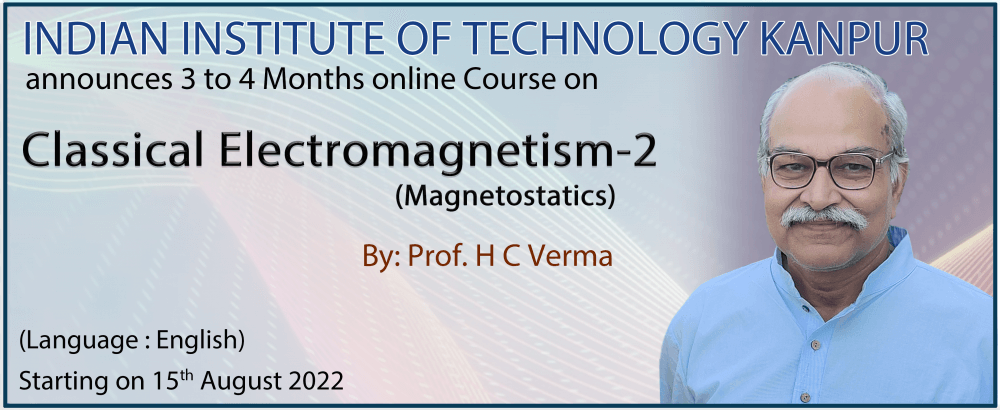 This course will be available for free in English.
Every week there will be three new lectures provided, likely one on Tuesday, one on Thursday, and one on Saturday.
The lectures are available to be seen whenever convenient throughout the term of the course.
For the purpose of assessment, there will be four quizzes with multiple choice questions.
Course Content/Syllabus: (What You Will Learn?)
Electric current, linear, surface, and volume currents, and their densities
Current elements
As an important result of the Special Theory of Relativity, there is a magnetic field.
How a charged particle moves in a magnetic field and when an electric field and a magnetic field cross each other
Motion in a magnetic field that isn't uniform, Magnetic bottle,
Changes in cosmic rays and the evaporation of solids by e-beams
Magnetic dipole moment of a general plane current loop and magnetic field forces and torques
Magnetic field Bio-Savart law
Ampere's Law: The Potential of a Vector
Quizzes: 4-6 MCQ
During the course, there will be quizzes. These quizzes will be used to figure out your grade.
Who Can Apply For This Online Free Course?
B.Sc. and M.Sc. students, physics teachers at the UG and PG levels, and people with a background in physics or math who are interested in quantum mechanics can easily apply/enroll for this course Free Of Cost.
Certificates After Completion Of Classical Electromagnetism Course
The Centre for Continuing Education (CCE) of the Indian Institute of Technology Kanpur will provide certificates to participants, based on their achievement and attendance.
Attendance Details
In order to receive credit for attendance, a lecture must be watched in its entirety on the course website. This can take place over the course of multiple sessions. It is possible that you will need to attend at least 90 percent of the lectures in order to earn a certificate.
How to apply For These HC Verma Courses?
For official notification by IIT Kanpur for launched IIT Kanpur short-term course on Classical Electromagnetism, Click On the Below Apply Link.
For more Understanding, you can follow the below video:
Join our Community for daily updates on Courses, Internships, Scholarships, Campus Drives, Free Mock tests, Free Courses coupons…etc.
Also, Checkout this Article: Top 10 Websites For Job Seekers in 2021