Google Digital Marketing Course With Free Certification | Google Digital Unlocked | Learn Fundamentals Of Digital Marketing in 2022
Hello Guys, Are you willing to grow your business online by adding some best Digital Marketing strategies? Are you tired of searching for the best digital marketing course online which helps to grow your business rapidly and makes you a pro at Digital Marketing? If Yes, then you are at the right place guys.
Today we come along with the best free digital marketing course online for beginners in India with a free certificate. Google Digital Unlocked, the best learning platform by Google, introduced the Fundamentals Of Digital Marketing Course totally free of cost for everyone who is interested to learn and growing. Google Digital Unlocked is a great initiative by Google's CEO, Sundar Pichai in India to enable small and medium-sized businesses with the digital marketing skills they need to expand their businesses.
Develop your skills with these e-learning courses designed by Google experts and become Google Certified.
About this Course – Fundamentals Of Digital Marketing
Google Digital Unlocked, is the platform that helps you grow with Google with free training and tools in the UK. The training is self-paced and helps individuals achieve their goals. Covering a wide range of topics, people completing the courses get certified from Google.
This course helps you learn new digital skills and provide new opportunities, helping you grow bigger and stronger in your business and career endeavors.
With this free Interactive Advertising Bureau-accredited course, you'll learn the fundamentals of digital marketing. There are 26 modules to choose from, all produced by Google experts and packed with practical activities and real-world examples to help you put what you've learned into practice.
Course Details: It is a 40-hour course with 26 modules, beginner level, and free of cost.
| | |
| --- | --- |
| Course Name | Fundamentals Of Digital Learning |
| Introduced By | Google Digital Unlocked |
| No. Of Modules | 26 Modules |
| Duration | 40 Hours |
| Free | YES |
Skill You Will Gain
Analytics & Data Insights
Business Strategy
Content Marketing
Digital Advertising
E-Commerce
Email Marketing
Loca Marketing
Mobile
SEM
SEO
Social Media
Video
Web Optimization
Course Features
IAB-accredited
Video tutorials
Unlimited access
Recognised certification
Modules for Google Digital Unlocked:
The extensive syllabus includes:
The online opportunity (two lessons, 15 mins). It includes:

An introduction to Digital Unlocked
Your digital opportunity.

Your first steps in online success which has four lessons:

Online goals
Building an online presence
Marketing your online presence
Analyze and adapt.

Next is building a web presence. The six lessons in this module are those of:

Choosing your online presence.
Working of websites
Key website ingredients
Understanding business goals
Making your website user-friendly
The do's and don'ts of website designing

Planning an online business strategy. With five lessons, this module lasts for 30 minutes and includes:

Benefits of an online strategy
Taking your business online
Understanding all about customer behaviour
Ways to stand out from the competition
Improving business performance through goals

Getting started with search has six lessons lasting 45 minutes and talks of:

Basics of search engine
Working of search engines
Search engines and the web
Organic search
Paid search
Google search console

Visibility with search has five lessons lasting 35 minutes and is all about:

Introduction to search engine optimization
Importance of SEO
The SEO process
Choosing keywords
Setting practical and realistic SEO goals.

Making search work for you has three lessons of just about 25 minutes and includes:

Making of search friendly web pages
How other websites work for you and
Cross borders with SEO

Search ads is a module with four lessons (25 mins) and include:

Introduction to search engine marketing
SEM auction
Making of a good keyword
How to make your ads stand out?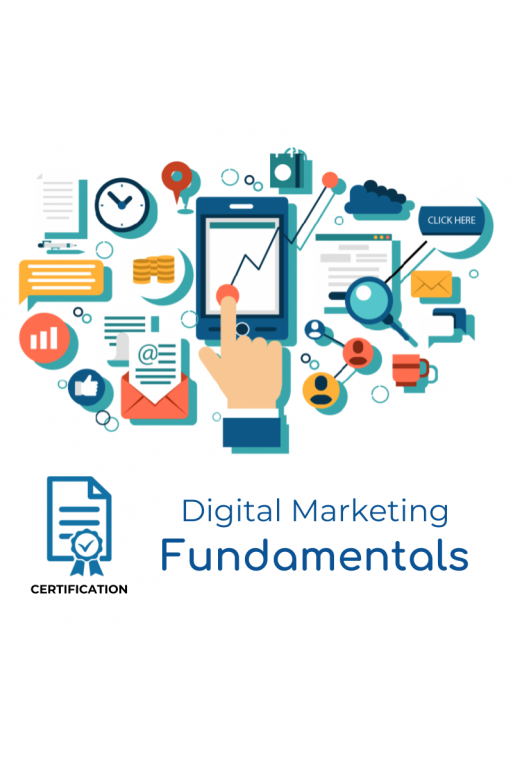 The other modules are:
Improving search campaigns has four lessons of a total of 30 minutes and includes:

Relevance with good structure
Getting the most from appropriate keywords
Fine-tuning keywords
Analysing what is working and what is not.

Local identity has two lessons of 20 minutes and talks of:

Marketing to locals
Power of local directories

Helping people nearby find you online is a module that has three lessons of 25minutes and explains:

Local advertising using digital
Reaching out to the locals on mobiles
Local business SEO

The Social Media module has four lessons of 30 minutes and explains:

Basics of social media
Selecting the right social media platform
Setting goals
Getting on social media to benefit from it

In-depth understanding of social media has four lessons of 30 minutes again and talks of:

A long-term social media plan
Advertising on social media platforms
Measuring success
Avoiding pitfalls

Possibilities of mobile have three lessons and include:

Evolution of mobile devices
Understanding mobile web and apps
Mobile apps

Mobile marketing has five lessons and explains:

Advertising on mobiles
Search campaigns for mobiles
Display campaigns
Social media campaigns
Video use for mobiles.

Content marketing is a little vast and includes six lessons of a total of 35 minutes and talks of:

Introduction to content marketing
Getting to know the customers
Choosing the right format of content
Writing for an online audience
Content visibility
Measuring the success of content marketing

Email marketing has five lessons and includes:

Basics of email marketing
Options for email marketing
Crafting great emails
Managing email campaigns
Measuring the success of these campaigns.
Further, you will also learn:
Advertising on websites has three lessons, which are:

Display advertising
Search advertising
The ins and outs of display advertising

Display advertising in-depth has three lessons, which are:

Display ads meeting goals
Understanding all about ad networks
Retargeting

Video marketing has six lessons and explains:

Rise of online video
Fitting videos into your strategy
Creating video content within the budget
Sharing and promoting videos
Advertising on the video-sharing sites
Measuring performance

Analytics has three lessons:

Web analytics
Making web analytics work
Specific goals with web analytics

Success with analytics has three lessons and includes:

Organic search and web analytics
SEM measurement tools
Breaking down data

Insights from data have five lessons and include:

Understanding audience from data insights
Data cycle
Actionable insights from data
Spreadsheets
Efficient presentation of data

Building your online shop has two lessons:

Using e-commerce for selling
Managing orders and taking payments.

Selling online has three lessons:

Smooth e-commerce experience
Product promotion
Retargeting

International expansion has seven lessons:

Introduction to international marketing and export
Validating the new market
Advertising
Being understood
Support systems
Helping customers buy your products
Delivering across the globe
How does It work?
Learn new skills with our bite-sized video tutorials, then test your knowledge with a quick quiz.
Pass the final 40-question exam and get certified.
Download and showcase your new qualification on LinkedIn and your CV.
For more Understanding, you can follow the below video:
Also, Checkout this Beginners Course to Master Microsoft Excel
Join our Community for daily updates of Courses, Internships, Scholarships, Campus Drives, Free Mock tests, and Free Courses coupons…etc.
Also, Checkout this Computer Free Certificate
🔴Mandatory Course for Everyone: Click here